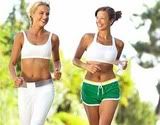 Today is a beautiful, sunny and warm day where I am at. It feels like spring is finally here! It's that time of year to start doing some outdoor activities, sports, exercising, and family outings.
Walk, run, bike, hike, or swim. All of these activities can involve your family as well.
I like to take my youngest in his stroller for a run or walk on days like this. Most days my entire family will strap on their sneakers and talk a walk with me after dinner. Ask your family to get involved. Exercise is not just for the mom trying to lose weight or get into shape. Exercise is necessary for everyone, including and especially children. Outdoor activities like walking are a great way to spend time with your family and get some exercise.
Happy Spring!!